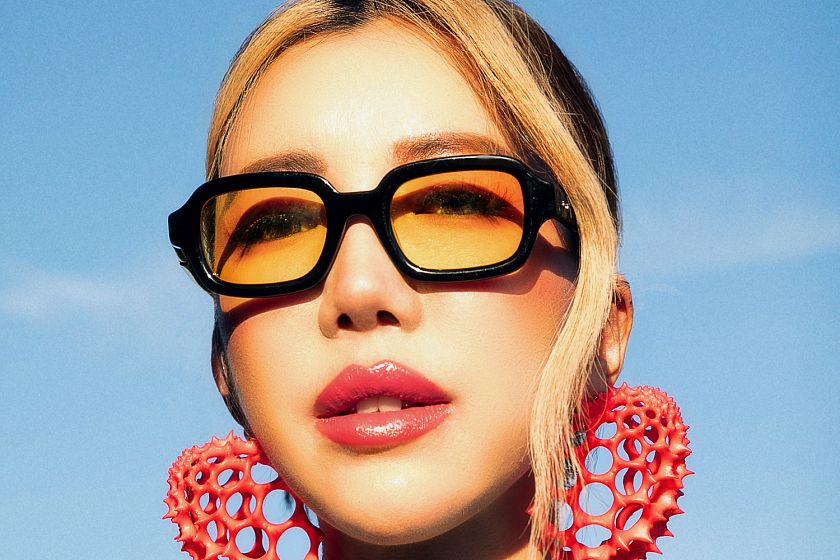 TOKIMONSTA
TOKIMONSTA
As TOKiMONSTA, Grammy-nominated producer Jennifer Lee has charted a fascinating career over the past decade. She is one of the most revered music producers as a pioneer of the seminal 2010 era "L.A. Beat Scene," but also as a world class performer ranking as one of the top 100 DJs worldwide. From her 2010 debut album Midnight Menu to her most recent 2020 album Oasis Nocturno, her entire discography has drawn critical praise from NPR, BBC, LA Times, NY Times, DJ Mag, Rolling Stone, Billboard, Pitchfork and more. As it stands, her list of collaborators include Anderson Paak, Earthgang, Ryuichi Sakamoto, Yuna, Zhu, Bibi Bourelly, The Drums, VanJess and more. She has gone on to remix artists such as Sia, Beck, Duran Duran, Portugal. The Man, Disclosure, Odesza, Ólafur Arnalds, and more.
2011's Creature Dreams EP, released on Flying Lotus's Brainfeeder label, expanded on Midnight Menu's palette with successful forays into vocal-led cuts thanks to the presence of regular collaborator Gavin Turek. Following her second full length album Half Shadows (Ultra
Music 2013), TOKiMONSTA began putting out several projects on her own label Young Art
Records. Mini-albums Desiderium (Young Art Records 2014) and FOVERE (Young Art Records 2016) both brought on featured artist Anderson. Paak and some of her most beloved songs to date.
At the end of 2015, her career temporarily came to a halt after being diagnosed with a rare and potentially fatal brain disease known as Moyamoya. After undergoing two surgeries to treat the illness, TOKiMONSTA was left with acute aphasia, meaning she could no longer verbally communicate. She soon discovered she had also lost the ability to comprehend the thing most important to her, music. Through perseverance and healing, Lee's cognitive and creative faculties returned. By Spring of 2016, she made a triumphant comeback with a jaw-dropping performance at Coachella. Her Moyamoya journey gained more wide-spread attention after starring in the season finale of the Vox-Netflix series Explained. The finale features live performance footage and interviews discussing Lee's recovery from Moyamoya.
By late 2017, TOKiMONSTA released her first album post-surgery, the critically acclaimed Lune Rouge. The album was nominated for 'Electronic Album of the Year' by the Recording Academy at the 2019 Grammy Awards. The nomination was more than an accolade, it was an astounding achievement for her community as the first Asian American producer and first female producer ever nominated in the category.
In 2020, TOKiMONSTA shared her fourth full length album Oasis Nocturno, which highlighted the pioneering producer's further progression as an artist. She incorporates her far-reaching influences with an effortless flow between the stylings of house, funk-soul, and hip-hop.
Keeping busy during the pandemic, TOKiMONSTA continued to pave new routes to connect with fans and artists alike. Firstly, she hosted one of the most watched music programs on Twitch, Lost Resort, where she held conversations with esteemed peers like Flying Lotus, SG Lewis, Baauer, and Sofi Tukker. Before some of the biggest entertainers were dipping their toes into the NFT world, TOKi took an early first step with digital artist Fvckrender in December of
2020. The collaboration showcases TOKiMONSTA's relentless capacity to innovate and produce art within any medium. In March 2021, TOKiMONSTA closed out Women's History Month by curating and hosting a livestream event featuring conversations and performances by leading women in the industry including performing artists Tinashe, ALUNA, WME head Caroline Yim, and many more. The two-day broadcast, called Every Woman, was hosted on Lost Resort's Twitch channel. TOKi heated up the summer of 2021 with two potent collaborations, "Say Yes" which featured rising R&B duo VanJess and "Naked" featuring electronic mainstay, Channel Tres; the former of which became the title of her 8 stop Fall tour.
Despite a blistering past year where her listener base skyrocketed to 1.7m monthly on Spotify,
TOKi is pulling punches in 2022. She set the tone with her first release, "The Flower Blooms" (a celebration of her Korean roots), which appeared on Netflix's Squid Game (Let's Play) EP, the official Remix EP from one of Netflix's biggest releases of the year. Always pushing her art to new limits, TOKi followed up with an emotionally charged single "Loved By U" featuring morgxn which was released alongside an accompanying music NFT collection via sound.xyz. She also brought her dynamic live show to music's biggest festival, Coachella. Along with a set on both weekends, she collaborated with Soho House, leading a "Hustling & Healing" event that gave festival-goers a meditative space to decompress.
Always looking to combine her creativity with innovation, TOKiMONSTA continues to push boundaries across music, fashion, tech and beyond.
Toki has now entered the world of tech having cofounded a music tech start up by the name of
"Sona." The aim of Sona is to democratize music streaming for artists in a world where the pay per stream is not adequate for a musician's cost of living. The protocol and platform will reconstruct the scaffolding of music streaming so that audiences still have access to all the music they desire, while allowing artist's payout to equate to what they truly deserve. In 2022, Sona raised approximately 7 million in funding and is in development. The company is aiming for a mid-2023 launch.